Welcome to our farm!
I can?t remember a time in my life where farm animals did not play a huge role in my day. I was ?not raised on a farm but got there as quickly as possible? is a quote that could be my story. During High School my best friend moved to a farm and I spent every available weekend there, learning from her family. During college, I majored in Animal Science, worked in the dairy barn, showed animals in the college competitions and studied large livestock farm management. My early career days however found me working as a paralegal but I got back to farming as soon as I could!
It is my mission to share the stories about building a self-reliant farm for our family. While sharing, I hope to encourage people to take steps to live more intentionally, taking back control of your food supply, and to be able to grow, harvest and store fresh food. Using what we learn, sharing what works for us and encouraging others to take steps toward living a more self-reliant lifestyle, is our goal. We raise pigs, cattle, and poultry including ducks, chickens and guineas. The fiber that makes our farm blend yarn comes from our own sheep and Pygora goats. The yarn is processed locally by a state of the art fiber mill, making it a premium product that is garment soft. The yarn is available through our website and purchases of the yarn or fiber help us support our small farm. Coming soon, Fresh Honey from our farm bees!
When not farming, I write posts for the digital publications, Backyard Poultry Magazine, Countryside Magazine, Self-Reliant School and From Scratch Magazine.
Read my latest book, Chickens From Scratch, Raising Your Own Chickens From Hatch to Egg Laying and Beyond, available through Amazon.com or Available in paperback and e-book.
---
Other Awesome Blogs I Read: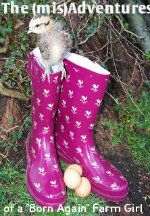 ---
Proud Contributor To: